Manufacturer, Supplier, Dealer, Distributor, Trader, Exporter, Importer Of PTFE Sheets, PTFE Round Rods, PTFE Square Rods, PTFE Skived Sheet, PTFE Bellows, PTFE Bushes, PTFE Pipes, PTF Tubes, PTFE Envelope Gaskets, PTFE Rings, PTFE Gland Packing, PTFE Universal Soft Packing, PTFE Graphite Soft Packing, PTFE Valve Seal, Expanded PTFE Tape, PTFE 100% Packing, Lubricated PTFE Packing, Lubricated PTFE Packing With Dispersion, PTFE Graphite Packing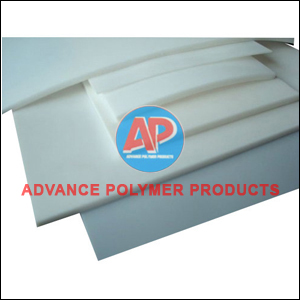 PTFE Molded Sheet:
Our respected clients can avail from us a quality approved the range of PTFE Molded Sheet.
These products are made available in multiple sizes to fulfill the varied needs of the customers.

Features:
• High efficiency
• Compact design
• Low maintenance
• High usability
• User friendly
• Enhanced durability

Benefits of PTFE Sheets:
• PTFE Sheet has withstand temperature from -200°C - +250°C
• Excellent Insulating properties
• Molded PTFE sheet has the lowest coefficient of friction of all known solid materials
• It has the best electrical properties of all plastics
• PTFE Sheets exhibit astonishing chemical resistance



Usage:
• PTFE sheets and films are used in a wide variety of industries including heavy electricals, electronics (for circuit boards), pumps and valves. J.V.C in India capable of achieving global standards of tolerance on skived tapes, sheets and films.

Specifications:
Standard Size1.5 mm THK to 50 mm THK
Width300 mm x 300 mm, 450 mm X 450 mm, 600 mm X 600 mm 1000 mm X 1000 mm & 1200mm X 1200mm
GradeVirgin & All Filled Grades