Manufacturer, Supplier, Dealer, Distributor, Trader, Exporter, Importer Of Ultra High Molecular Weight Polyethylene Products, Ultra High Molecular Weight Polyethylene Sheet, Ultra High Molecular Weight Polyethylene Round Rods, Ultra High Molecular Weight Polyethylene Square Rods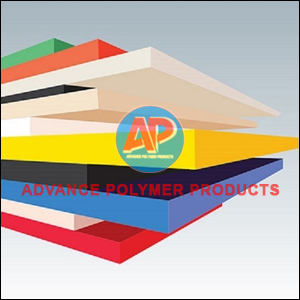 Product Details:
| | |
| --- | --- |
| Brand | Advance Polymer Products |
| Color | Black, Blue, Green, Red, WHITE,YELLOW |
| Feature | Wear Resisting, Printed, Adhesive, Odourless |
| Material | Ultra High Molecular Weight Polyethylene Liners |
| Size(FeetXFeet) | 4X8 |
| Thickness | 2mm, 3mm, 4mm, 5mm, 6 MM TO 150 MM |
ADVANTAGES
It fights abrasion and corrosion while contributing a low coefficient of friction. It weights 1/7 the weight of steel, 1/3 the weight of aluminum, and outwears abrasion-resistant steel 3 to 1. The coefficient of friction is 0.14 or lower and the material does not require lubrication.
APPLICATIONS
It is presently used in the material handling industry, as component parts in conveyor lines in the automotive industry, lumbering, food/beverage packaging, and other industries which require a tough, wear-resistant material. It is tough and is processed in specially designed equipment using precision engineered dies. Design and construction of these dies warrants volume to justify their costs.
Extruded lengths can be cut into shorter lengths and made in fabricated parts such as wear shoes, bearing blocks, sleeved bearing and thousands of other wear-resistant products.

ADVANCE POLYMER SUPPLY BEST QUALITY PRODUCTS WITH AT LOWEST PRICE.
Additional Information:
• Item Code: 39019090
• Pay Mode Terms: T/T (Bank Transfer)
• Port of Dispatch: PUNE
• Production Capacity: 10000 SHEETS
• Delivery Time: 2-3 DAYS
• Packaging Details: SHEETS PACKED WITH COVER OF LINERS PP BAGS.